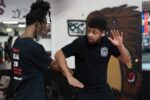 Short Business Description
Guided Chaos prides itself off of the fact that after one class you have the skills you need to protect yourself. Of course there's a lot more to learn but the point is that you now have the mindset to survive in combat. In addition you have the basic skills to deal with many altercations on the street. After that you must master the basic skills and learn how to apply them in different situations. Devote yourself to 4 weeks of serious practice and watch the results come in!
Send Message
Please
log in
to be able to send messages to the listing owner.